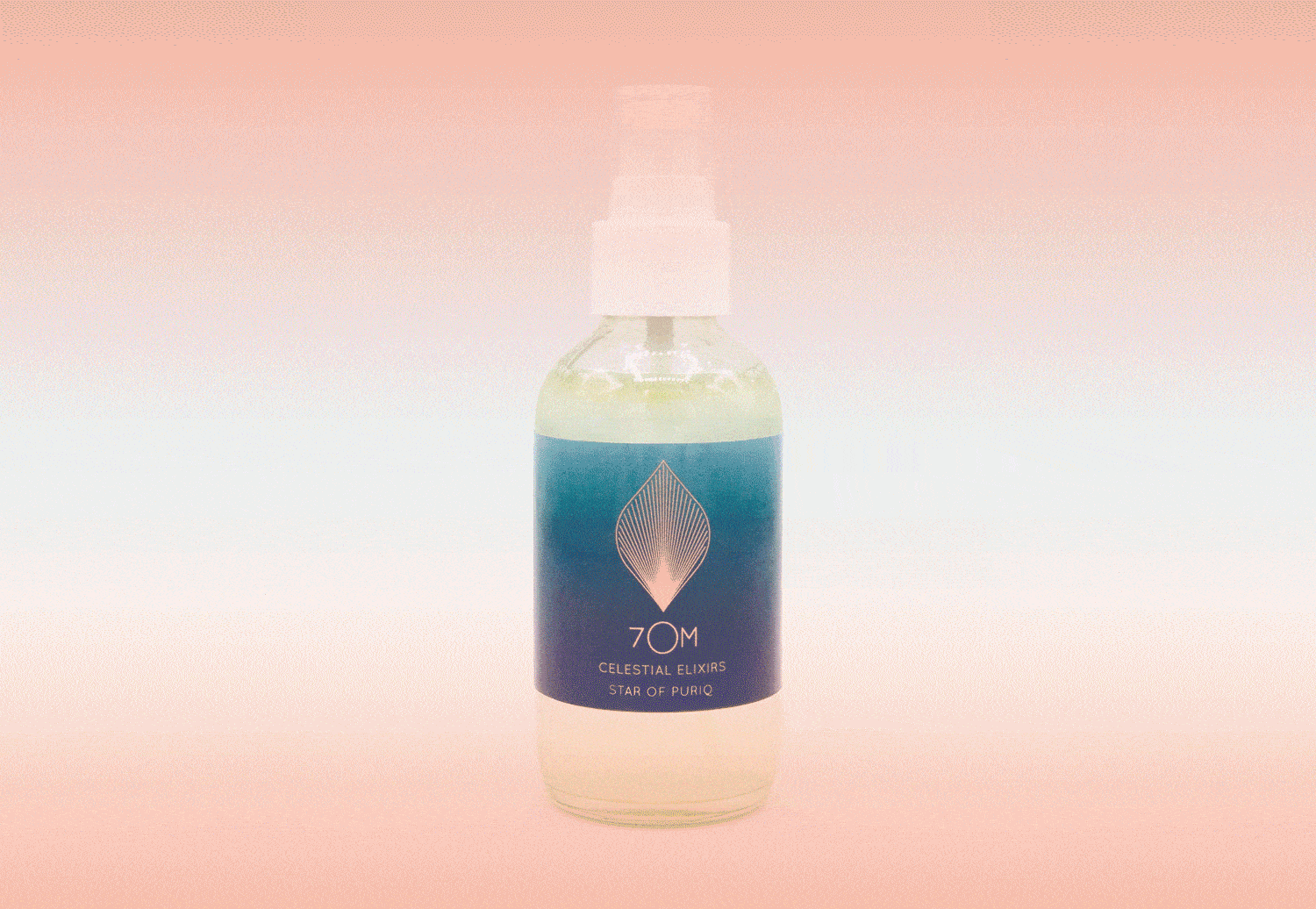 Limited Edition.

Each Elixir is made and blessed individually by Nicola
and comes with a gift certificate for its accompanying digital Guided Journey
worth $33.
Spray externally to Bless your Being, your Body & your Space, and watch as the magic and the serendipities unfold.

December's Holiday Elixirs will be shipped from Ojai via 2 day priority mail on December 18th.

7OM Holiday Magic: Free holiday shipping with code: freeshipping & special 12% discount code on 12-12-18: ELIXIR1212

A LA CARTE ELIXIRS
*each elixir purchase includes a gift certificate for a corresponding guided journey worth $33 from our library
PURIQ Q'OTO
Star of Grounding
If you need Grounding and Release and want to bless and clear a room, choose Puriq. She's my go-to to clear any space or person of negativity and last year she went from my least favorite elixir to my most favorite. Why? 'Cause it's take a while to realize that Groundedness & Clarity is in fact the most fun and sexiest thing on the planet. It sets the container for everything that we want to flow in and magnifies it. Like a calming sigh of relief in a bottle. Highly recommend.
$77
TARPUQ Q'OTO
Star of New Beginnings
If you are looking to kickstart the year with a taste of New Beginnings creatively or physically and have some life-force you'd like to get moving in your body, your creative ventures (and also in the bedroom) then our girl Tarpuq is for you. She brings a freshness and yesness and a remembrance of the magic that already lives inside your own Being, and with that confidence and remembrance, we find ourselves believing once again in the power of possibly. And from here, creativity flows forth in highly desirable ways - inside and out.
$77
NAWI Q'OTO
Star of Abundance
If you are looking for prosperity, then our original and first ever elixir, Nawi, the elixir of Abundance is your elixir of the new year. Spicy and wholesome in flavors, she is said to awaken your abundance chakra and help seal any energy leaks that are causing unnecessary outflow, while helping to generate freshness and newness and yesness in your Being. And because the external is a reflection of the internal, seeming miraculous moments relating to prosperity often follow suit. Remember, the proof is in the pudding, and repeat after me: Money is my friend.
$77
MUNAI Q'OTO
Star of Sacred Love
If Love of all kinds is on your mind this holiday season (hahaha, we just became the hallmark channel!) But seriously, if opening your heart and welcoming Sacred Love into your life on a radiant level, then Munai is your go to spritz in the morning. Warning: when you open your heart, you'll also shift the way you see and experience the world and you'll slow down your day automatically as you wonder at the magic that is making itself known to you. Your relationship to receiving will also shift. So get ready to receive and allow your sweet vulnerability to gift you in the truest and deepest of ways. This is why you came, my friend. Can you hear the angels singing so sweetly in your ears right now: That's Munai Q'oto at play.
$77
LLANQAQ Q'OTO
Star of Authenticity
Authenticity, baby. Elixir number 5. The powerful agent of Voice. Tune into your throat chakra right now as you read these words. Can you feel energy moving? That's how powerful it is. You can tune into it from here without spraying a thing. The smell is like heaven, calming and invigorating all at once, and I predict after a few spritzes in the morning, you'll leave the house remembering who you are and anchoring in and sharing your truth in powerful and empowered ways.
$77
ILLIARI Q'OTO
Star of Inspiration
Inspiration Inspiration Inspiration. My favorite form the beginning. Illiari. My home girl. The third eye angel where inspiration and imagination combine and miracles make themselves manifest.
$77
QANQAQ Q'OTO
Star of Illumination
And finally, Illumination. The crown. The reason for all alchemy and all hermetic principles — to remember our own majesty and allow it to illuminate our entire Beings. That glow that some people seem to have? Where the light just seems to spring from their insides? This is Qanqaq Q'oto. Illumination in a bottle.
$77
THE FULL 7OM CELESTIAL ELIXIR SERIES
FAQS
I'm sorry to sound silly, but what on earth is a Star Infused Energetic Elixir Spray?
It's not silly at all. Thank you for asking. It's a custom made Sacred Spray that is energetically infused with energy from the Seven Sisters Stars Constellation that I work with alchemically. Each star has a specific theme and works with a different area of your life and so one of the 7 Stars is picked to match the specific Quality of the elixir, transmitted through my hands into the bottle and blended with essential oils and crystal essences and specific blessings. A real life personalized Magic Potion that smells like Heaven.
How do you infuse an elixir spray with the energy of the Stars?!
In 2013, through a series of seven Ceremonies and personal energy transmissions with the Peruvian Q'ero Elder Don Mariano Quispe Flores, I was part of one of the first groups of shamanic healers and energy practitioners from the West who were connected to and given the rites to transmit the energies of the Pleiades Qotokuna (Constellation) with the specific intent of sharing these beautiful and divinely feminine energies in the West for healing and upliftment. There are different ways to transmit them, and some of you have experienced them first hand in our sessions together and during the 7OM Celestial Journey, but it was clear then that one of the ways that I would be helping to spread the beauty of their healing and Sacred energies in the world was through the alchemic creation of a series of energetic elixir sprays. I feel blessed and grateful to be able to share these with you now and hope you enjoy them and feel their wonder and beauty infused into your life as I have!
Where and how to do you use it?
You can spray it on your body, around your body (my personal fave) or even in specific rooms or places. Really anywhere you want to infuse this specific Quality. Remember, they're vibrational and our bodies are vibrational, which, in essence, is where and how the magic happens.
Wow. They sound wonderful. How do you make them?
I personally make each individual elixir with crystal essences that are infused with essential oils, sacred ormus, personalized blessings and sacred healing energies and transmissions from the Pleiades Star Constellation, aka the Seven Sisters. The crystal elixirs, essential oils and specific Star energies are chosen in direct vibrational correlation to the quality of the elixir, and each elixir is blessed during a special ceremony during the week of the 7OM Celestial Journey. So while those taking part in the Journey are doing their guided meditation and ritual to connect to and receive the transmissions from each star, I will be making your actual elixir for that star. Cool, right?
How did these magical potions even come about?
Like most wonderful discoveries, by accident. Necessity is the mother of invention for a reason. Around the time that I received the rites to transmit the energies of the Pleiades, I had also co-created and was at the helm of a beautiful and successful raw, local, small batch Almond Milk business called Almond Milk LA. Almond Milk LA had several outposts at farmers markets and I created a specific abundance elixir spray and a space clearing for their booths. If you have ever worked a farmers market booth, you become very aware of energy and the energy that people bring with them to your space, so I created some sprays to help clear the space and bless it at the beginning of the day. Time after time, when we were in a lull moment, I would spray the mist around the booth and suddenly from nowhere we would be descended upon by customers. And while they say correlation isn't causation, I say holy mother, this is an incredible thing to witness with your own eyes time and time again. It was truly a marvelous awakening to what is possible and probably when you work vibrationally. Everyone who worked the Almond Milk LA farmers market booths were instructed in the use of the Abundance and space clearing sprays. At first they thought I was just a little woo-woo, which I am, and then within weeks, they saw the magic for themselves firsthand and we would receive desperate calls whenever the elixirs were running low. Miracle after miracle and serendipity after serendipity unfolded with that enterprise, people started hearing about the magical sprays and friends started asking me to create them their own personal elixir sprays for love and abundance and authentic self expression, among other beautiful and important qualities for creative people out in the world. And just like that the Seven Sisters Celestial Elixir line was born.
Why and how are they limited edition?
I'm so grateful for the gift of Alchemy and I love these little elixirs and potions more than words. But I travel a lot for the other aspects of my work and having had a business before that involved constant production of a product, I have always known that this is a precious gift that I'd like to share with my people at certain times in the year, but certainly not all year round. Part of the magic of these sacred sprays is that I make and bless each one personally. This is partly why they are so precious. Because in this age of mass consumption, once these babies are gone, they are really really gone!
But can't you just make one more. Just for me? Come on. We are old friends!
Right now. 111 of each feels perfect! Once they sell out, they are gone until 2019. If I feel called to create something else during the year, you will be the first to know. Pinky promise!
Thank you. I appreciate it! Can we take a moment to acknowledge that you transmit the energy of a constellation of Stars. You really are one cool chica.
Thank you. And so are you. And when you get really quiet inside, you will realize that even without the ceremonies, so do you. We are all starstuff, and the world is just starting to reawaken to this fundamental truth.
That really resonates with me. I'd like to learn more and work with you in other ways. Is that possible?
Yes, absolutely. Just peruse the 7OM website and see the variety of ways that I work with people. The best way to start is to take the 7OM Celestial Journey with me. It opens the floodgates to magic and beauty and serendipity and reminds you of your own sacred connections to the stars. While I have some very tangible and beautiful gifts that I am very grateful for, a huge part of my work is reminding people and reigniting their own magical connections and gifts. This is what it is to be alive during the age of Mastery and Authenticity. And that, thank heavens, is the time are are now in. Welcome home magic maker!